UTOPIAN BODIES – FASHION LOOKS FORWARD CATALOGUE
Liljevalchs, Stockholm, Sweden, 2015-16
The accompanying 300-page exhibition catalogue includes contributions from internationally renowned writers, academics, artists and designers – Anja Aronowsky Cronberg, Anni-Frid Lyngstad, Barbara Vinken, Bradley Quinn, Catarina Midby, Christian Lacroix, Christopher Breward, Diane Pernet, Elizabeth Wilson, Franziska Bork-Petersen, Gina X, Hamish Bowles, Hanne Eide, Ingela Klemetz-Farago, Ingrid Giertz-Mårtenson, Jane Tynan, Johan Deurell, Kaat Debo, Kakan Hermansson, Kate Fletcher, Lena Cronqvist, Lykke Li, Madelaine Levy, Magnus Uggla, Marco Pecorari, Maria Ben Saad, Maria Bucher, Marie Fredriksson, Martin Widmark, Mårten Carstenfors, Rosie Taylor-Davies, Roy Andersson, Shaun Cole, Stina Ekblad, Susanne Madsen, Susanne Ljung, Sven Wollter, Therese Alshammar, Thomas Persson, Twiggy, Ulrika Berglund and Walter Van Beirendonck.

Edited by Johan Deurell and Hanne Eide.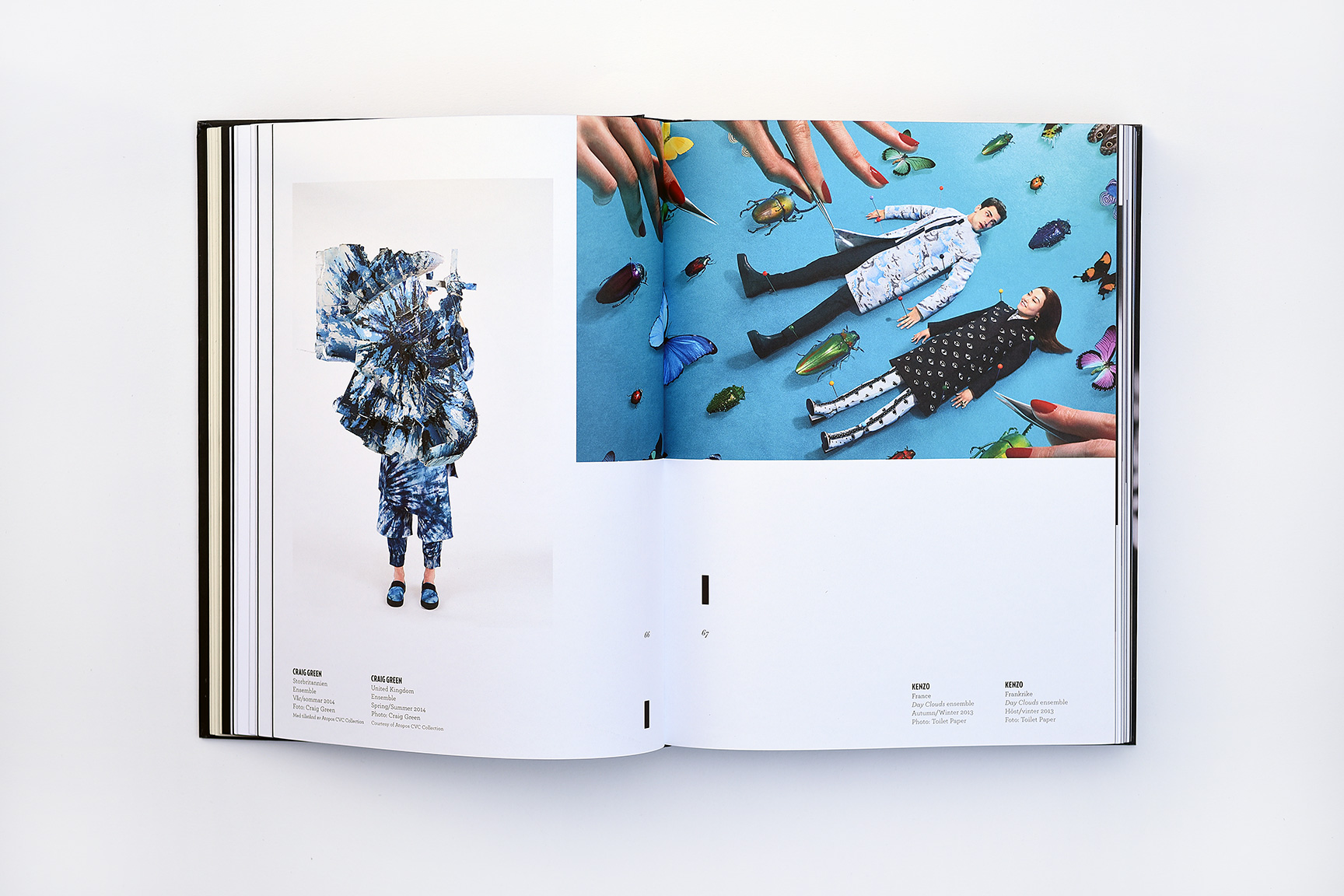 Children's exhibition catalogue and audio guide.

Utopian Bodies – Fashion Looks Forward had children's activities as a focal point. Author Anna-Klara Mehlich created a dedicated catalogue for children with tailored content and commissioned illustrations by Pernilla Stalfelt, Jojo Falk and Cajsa Wessberg. In addition, a children's audio-guide, exhibition treasure hunt and adapted wall texts for a younger audience were produced.

In collaboration with Vega Määttä Siltberg, Linea Matei, Agnes Nissen and Sigrid Eggertsdottir, students from Konstfack University College of Arts, Crafts and Design, a children's workshop area was built, which covered a range of activities such as sewing, drawing and sculpture tasks. A mini exhibition of children's work and special classes with local exhibiting designers were held during weekends.

Special thank you to Ulrika Hägglund at Liljevalchs.