THE ARCTIC – WHILE THE ICE IS MELTING
Nordiska Museet, Stockholm, Sweden, 2019
Under the bright light of the North Star, where meridians meet and time zones come to an end – this is where the Arctic begins. Home to four million people who have for thousands of years lived with the ice.

The Nordiska Museet's Great Hall has been given over to the life and changing conditions of the Arctic region. In The Arctic – While the Ice Is Melting, visitors encounter the history and future of the ice and the people that live in one of the regions of the world where climate change is most noticeable.

MUSEEA designed this grand exhibition occupying over 2,000 square meters. The exhibition is the result of close collaboration between the studio, Nordiska Museet and 40 researchers and experts from around the polar area.

"This is one of the most important exhibitions that we have designed", says Sofia Hedman. "Climate change is a critical issue that concerns us all. With our design, we want the visitor to have a powerful and immersive experience, but at the same time feel that we must all come together and act now."

Photography: Hendrik Zeitler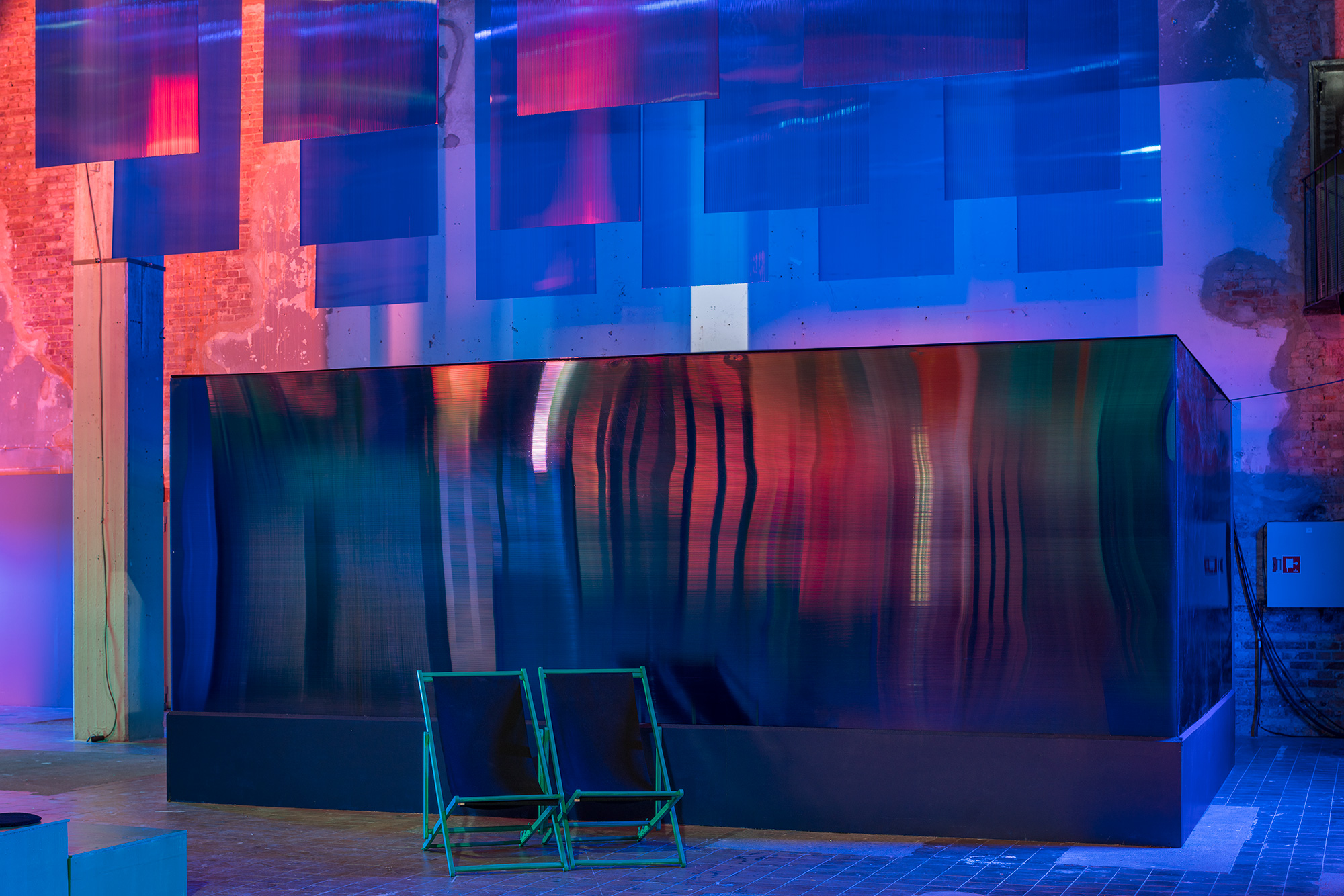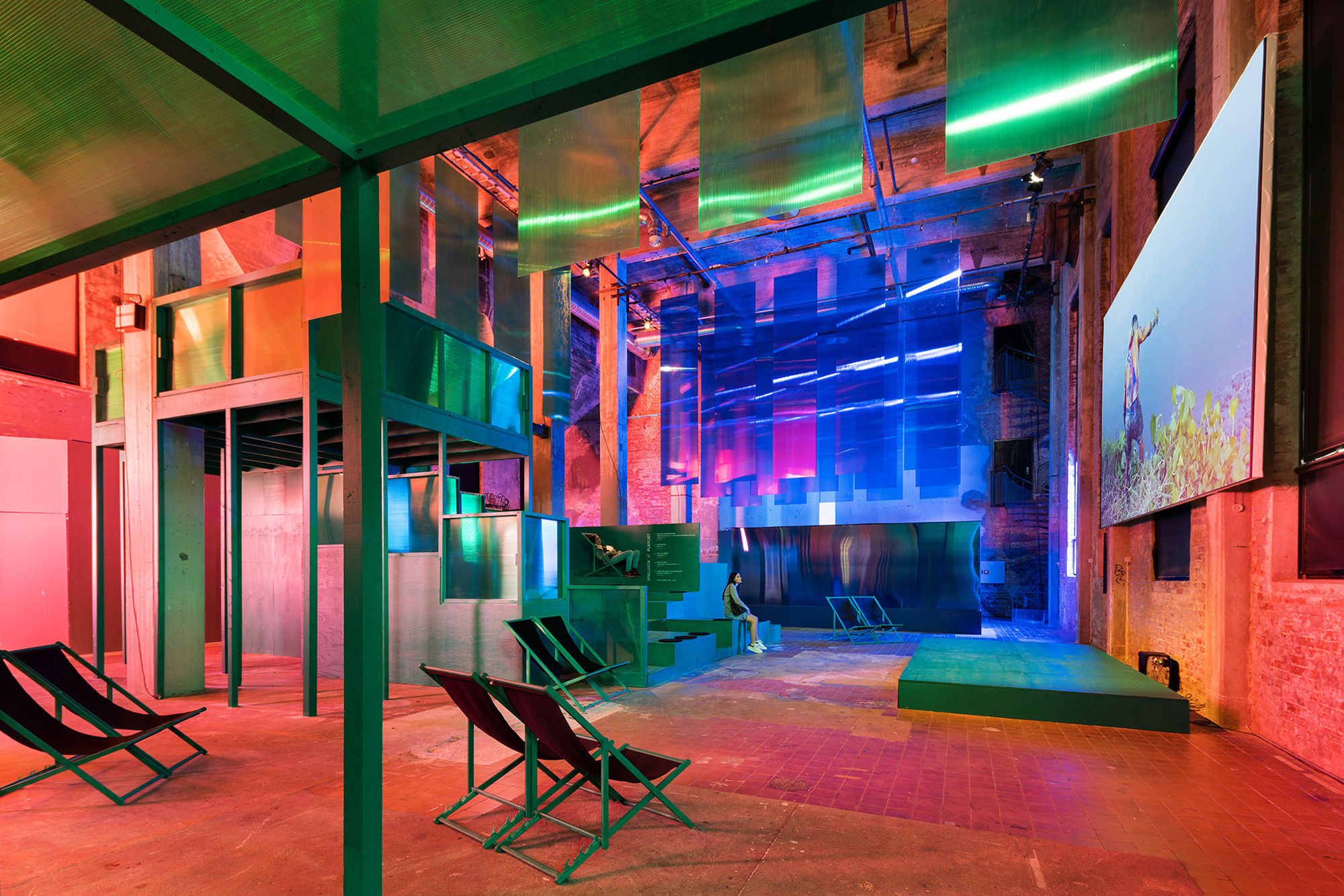 WE ARE THE REMIX
Röda Sten Konsthall, Göteborg, Sweden, 2017
WE ARE THE REMIX explores the shaping of identities through moving image and music and features eight audiovisual works created by some of the most distinguished artists and filmmakers of today. Drawing on various genres such as music video, documentary, performance and animation the exhibition remixes human histories, imagined futures and dream worlds from across the globe.

MUSEEA were commissioned by curator Aukje Lepoutre Ravn to create an immersive exhibition design and installation for this fascinating exhibition. Resonating with the curatorial theme, MUSEEA designed a miniature cityscape that embraces collectiveness, celebrates diversity and borderlessness – a welcoming architecture where people unite and share experiences.

Participating artists: Halil Altindere, Korakrit Arunanondchai, Anne de Vries, Jeremy Deller & Cecilia Bengolea, Carsten Höller & Måns Månsson, Nastivicious, Rachel Maclean and Vincent Moon & Priscilla Telmon.

Photo: Hendrik Zeitler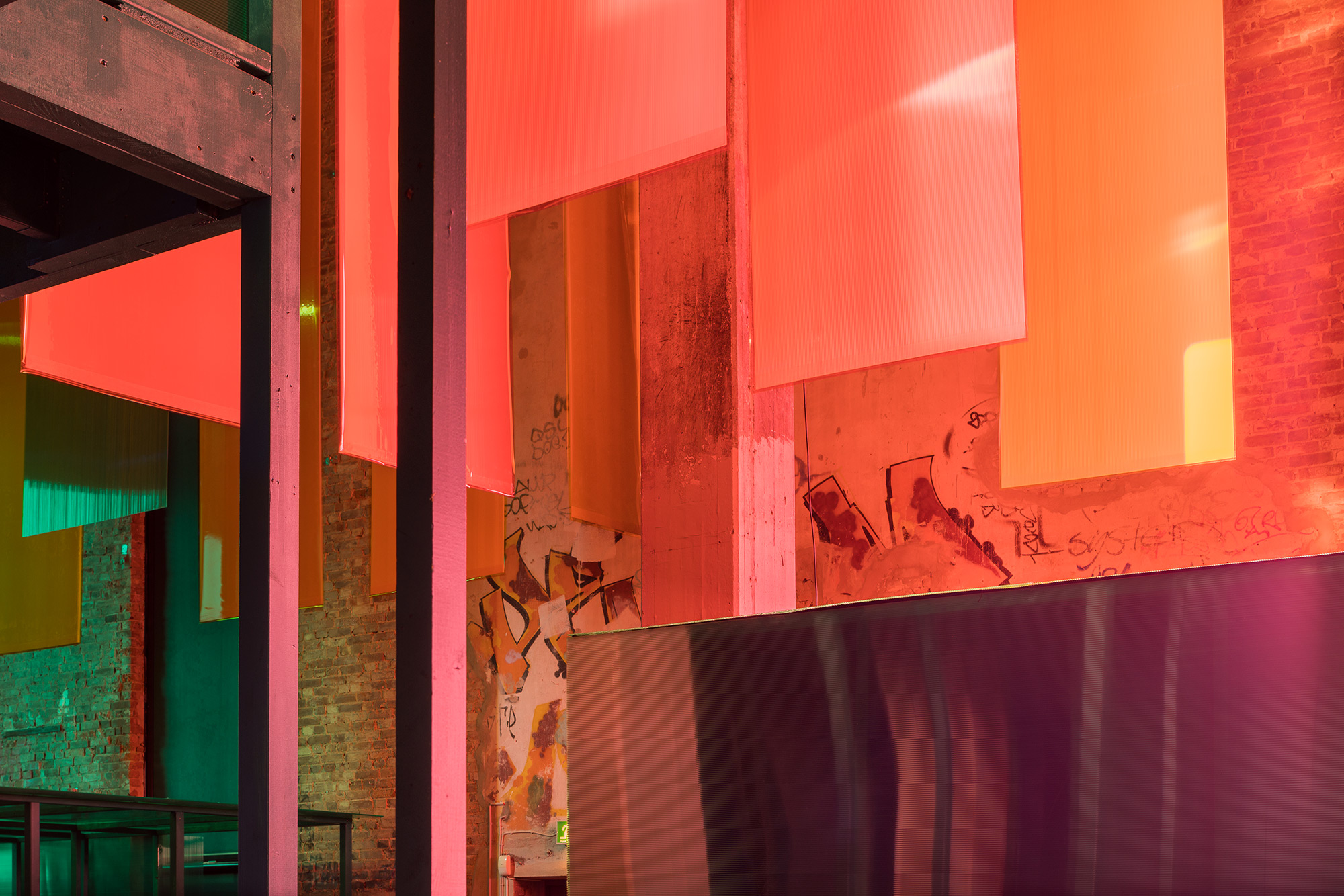 ---
UTOPIAN BODIES – FASHION LOOKS FORWARD
Liljevalchs, Stockholm, Sweden, 2015-16
Utopian Bodies – Fashion Looks Forward at Liljevalchs was awarded Exhibition of the Year 2015 by the Forum för Utställare, the Association of Swedish Museums.

Utopian Bodies presents over 230 of the world's most exciting, innovative and thought provoking ideas, objects and videos. The exhibition maps out imaginable futures for the adorned body. How can fashion be harnessed to create a better future? How does fashion relate to the human body, to us as individuals and groups, and the world around us? Presenting fashion's possibilities and highlighting human creativity, the exhibition aims to inspire visitors to search for their good place, their vision of the future.

Arranged over 15,000 sq feet in eleven galleries – Sustainability, Change, Technology, Craft & form, Craft & Colour, Resistance & Society, Resistance & Beauty, Solidarity, Memory, Gender Identity and Love – the exhibition presents a snapshot of what is possible today and where we can be in the future. With many intriguing objects on display, the exhibition invites visitors to embark on a journey through different worlds. The individually designed galleries are inspired by utopian ideas – some realised and others not. But above all, they highlight the social promise of technology and creativity.

Exhibition highlights include iconic objects by Viktor&Rolf, Hussein Chalayan, Christian Dior by Raf Simons, Walter Van Beirendonck, Issey Miyake, Alexander McQueen, Rick Owens, Prada, Gucci, Nick Knight/SHOWstudio, Jólan van der Wiel x Iris Van Herpen, Manish Arora, KTZ, Craig Green, Stephen Jones Millinery, KENZO, Acne, Bless, Schiaparelli Haute Couture, Dries Van Noten, Bernhard Willhelm, Naomi Filmer, Sonia Rykiel, Chloé, Massaro, Alexis Themistocleous, Eckhaus Latta, Charlie Le Mindu, Chromat, Gypsy Sport as well as Versace, Maison Martin Margiela and Comme des Garçons amongst many others.

Special thank you to director of Liljevalchs Mårten Castenfors, assistant curator Johan Deurell and fashion historian Hanne Eide, special collaboration with artist Orlando Campbell for the design for Craft & Colour gallery, artist Anastasya Martynova for bespoke mannequins, artist Perry Patraszewski for bespoke headpieces for the Solidarity gallery and artist Charlie Le Mindu for bespoke headpieces for Resistance & Beauty gallery.

Photo: Mattias Lindback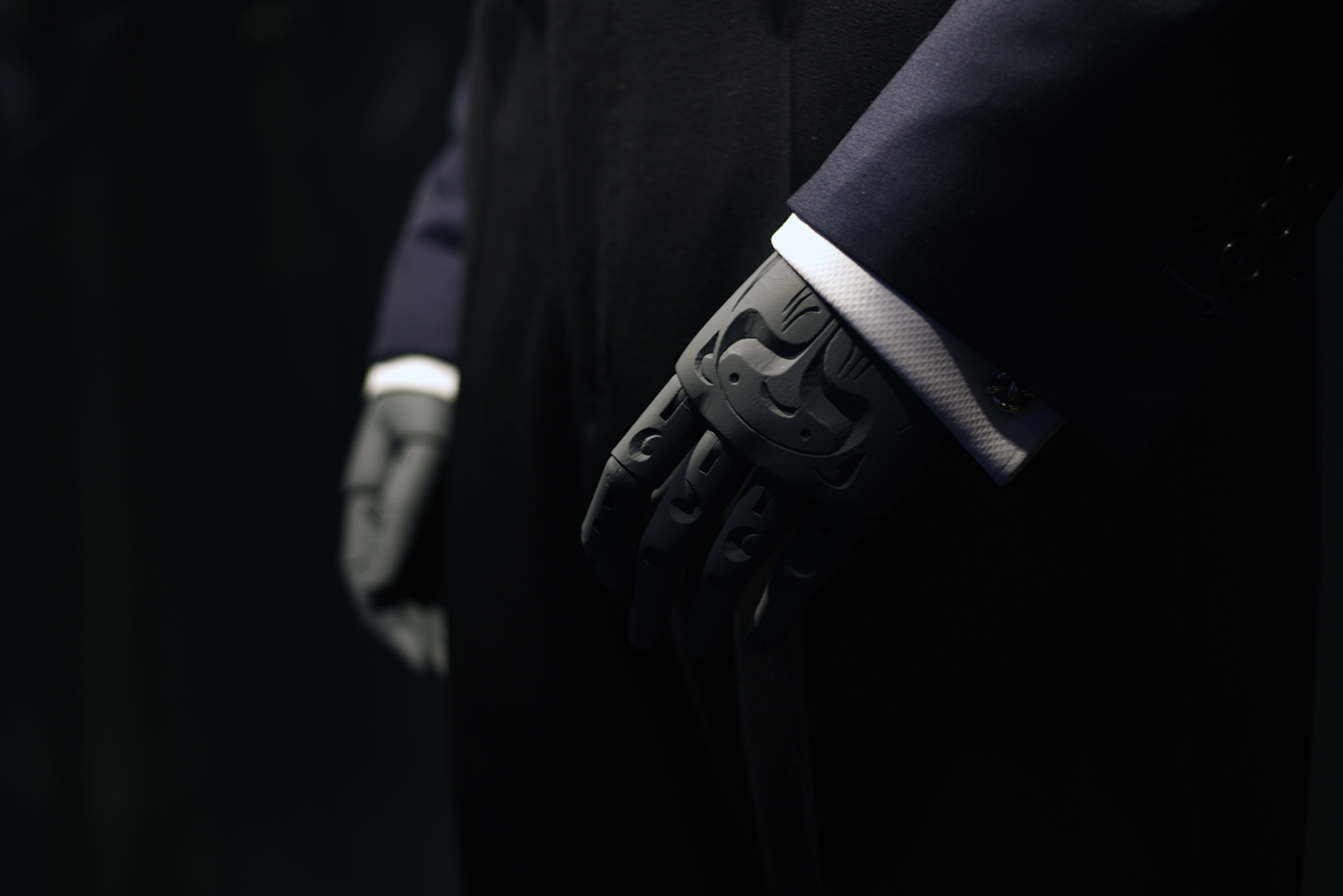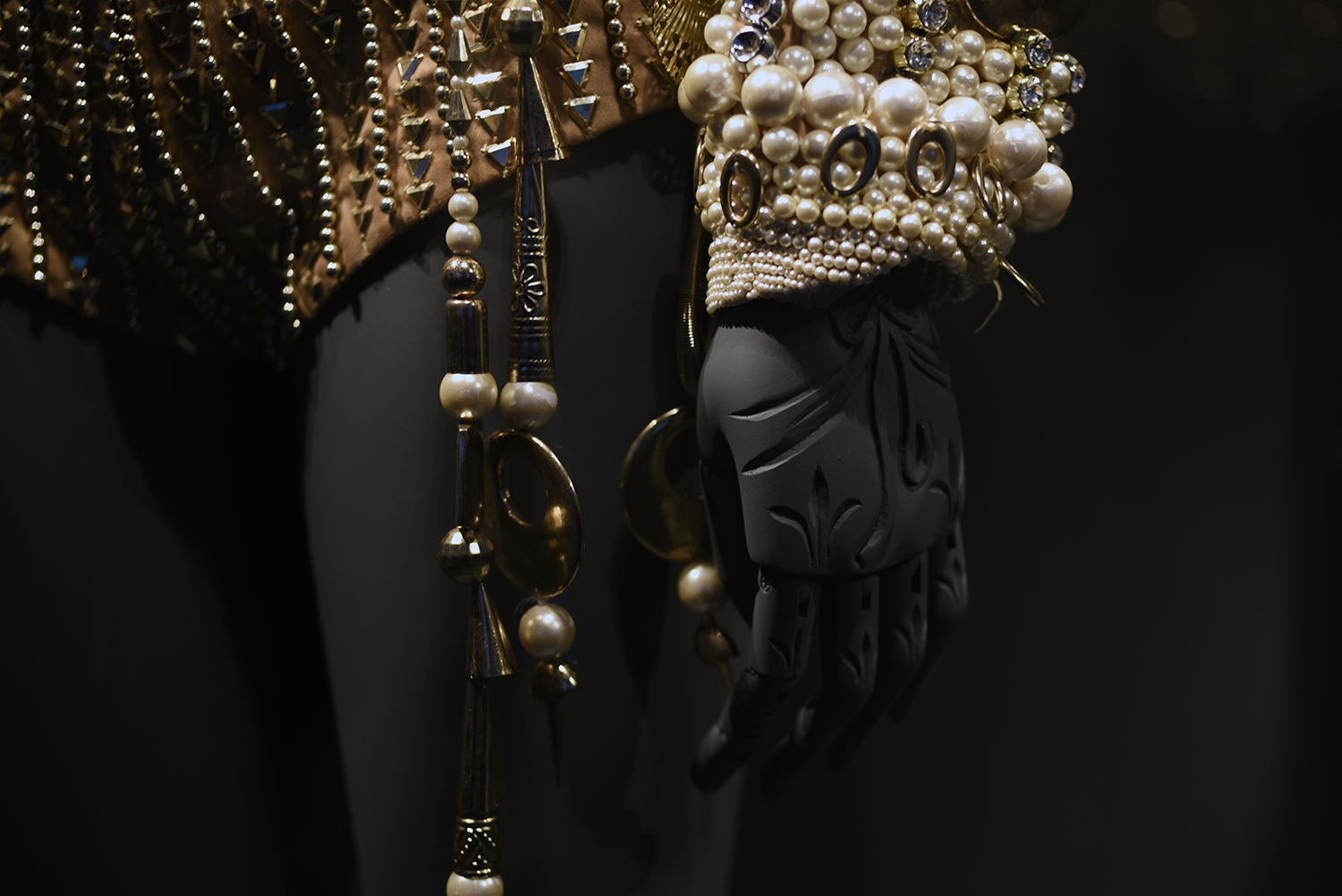 UTOPIAN BODIES – FASHION LOOKS FORWARD CATALOGUE
Liljevalchs, Stockholm, Sweden, 2015-16
The accompanying 300-page exhibition catalogue includes contributions from internationally renowned writers, academics, artists and designers – Anja Aronowsky Cronberg, Anni-Frid Lyngstad, Barbara Vinken, Bradley Quinn, Catarina Midby, Christian Lacroix, Christopher Breward, Diane Pernet, Elizabeth Wilson, Franziska Bork-Petersen, Gina X, Hamish Bowles, Hanne Eide, Ingela Klemetz-Farago, Ingrid Giertz-Mårtenson, Jane Tynan, Johan Deurell, Kaat Debo, Kakan Hermansson, Kate Fletcher, Lena Cronqvist, Lykke Li, Madelaine Levy, Magnus Uggla, Marco Pecorari, Maria Ben Saad, Maria Bucher, Marie Fredriksson, Martin Widmark, Mårten Carstenfors, Rosie Taylor-Davies, Roy Andersson, Shaun Cole, Stina Ekblad, Susanne Madsen, Susanne Ljung, Sven Wollter, Therese Alshammar, Thomas Persson, Twiggy, Ulrika Berglund and Walter Van Beirendonck.

Edited by Johan Deurell and Hanne Eide.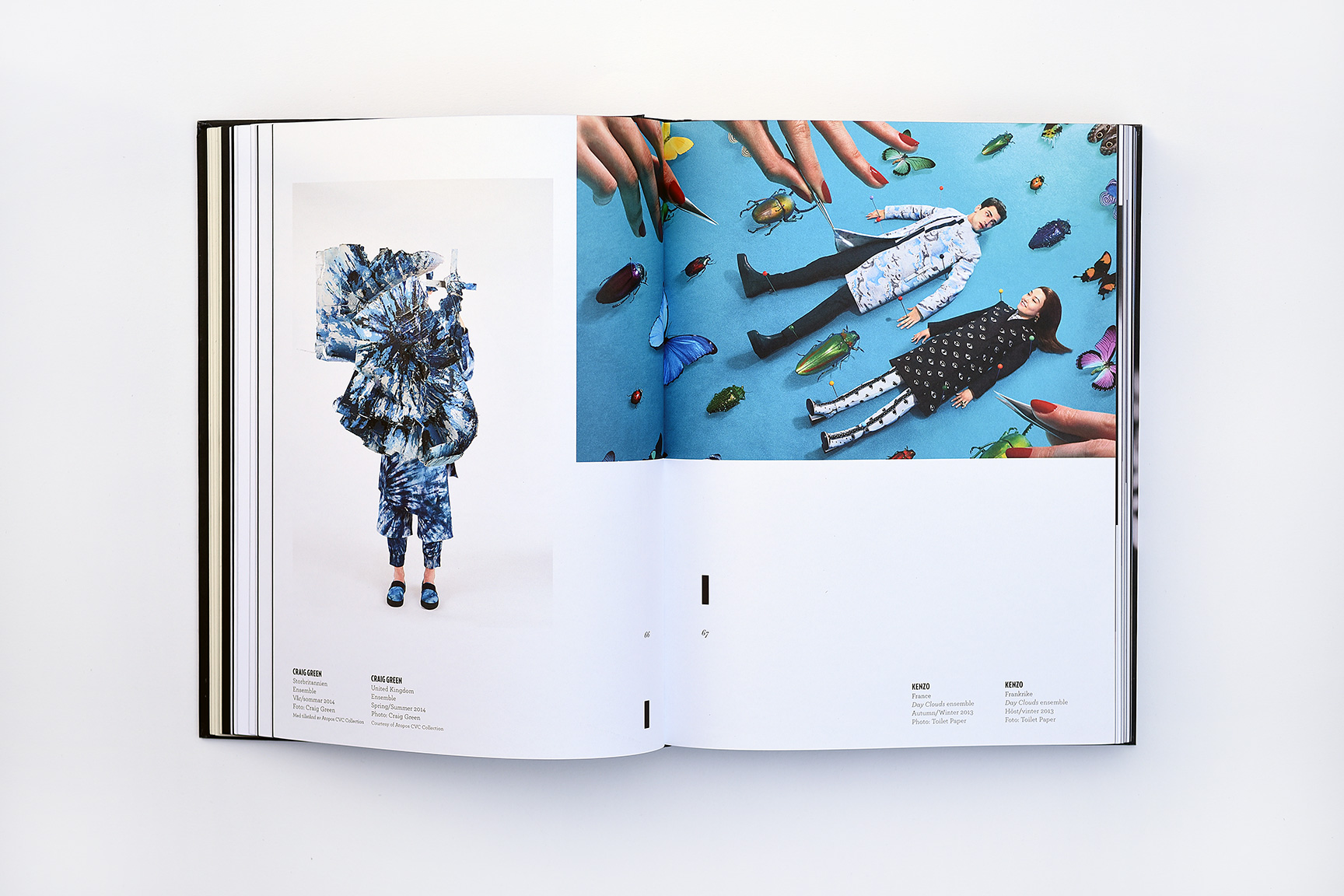 Children's exhibition catalogue and audio guide.

Utopian Bodies – Fashion Looks Forward had children's activities as a focal point. Author Anna-Klara Mehlich created a dedicated catalogue for children with tailored content and commissioned illustrations by Pernilla Stalfelt, Jojo Falk and Cajsa Wessberg. In addition, a children's audio-guide, exhibition treasure hunt and adapted wall texts for a younger audience were produced.

In collaboration with Vega Määttä Siltberg, Linea Matei, Agnes Nissen and Sigrid Eggertsdottir, students from Konstfack University College of Arts, Crafts and Design, a children's workshop area was built, which covered a range of activities such as sewing, drawing and sculpture tasks. A mini exhibition of children's work and special classes with local exhibiting designers were held during weekends.

Special thank you to Ulrika Hägglund at Liljevalchs.
WHITE PERSPECTIVES of STAMP STAIR,
part of Fashioning Winter,
Somerset House, London, United Kingdom, 2014-2015
White is the colour of winter: ever-present, relentless and beautiful in the fog, the frost, the ice and snow. Although the radiance of white is highly coveted in fashion, historically white clothing has been less-commonly seen during this dramatic season.

The history of white is complex and in the context of Western fashion history, colours have been used in both rituals and to mark political and social distinctions. This exhibition considers a number of views on how new materials, technologies and ideologies have contributed to changing the meaning and function of the colour white over time. It looks into the history of white plastic, white ink, white cotton, white pearls white lace, white teeth, white hair, white silk, white paint and white paper.

Architect Louis Savot, in 1626, voiced contemporary beliefs that there was no need for bathrooms, '[…] because of our usage of linen, which today serves to keep the body clean more conveniently…'. However, a daily change of linens was for the rich only as it required many servants to keep them white. The arrival of the washing machine and bleach was revolutionary. Soon the white shirt and the white t-shirt became some of the world's most common garments. In the 1980s and 90s – designers deconstructed ideas of high fashion and cleanliness, and began using stained and slashed fabrics that gave a notion of decay.

The installation design is inspired by the collaborative relationship between Josiah Wedgwood and Sir William Chambers, the architect who designed Somerset House in the 18th century and features white silhouettes by Jean Paul Gaultier, Maison Martin Margiela, Gareth Pugh, Kokon To Zai, Bea Szenfeld, Ann-Sofie Back, Iris van Herpen, Fantich & Young, Mao Usami and Charlie Le Mindu.

Special thank you to assistant curator Johan Deurell and fashion historian Hanne Eide.